I LOVE a good music festival! But I also really love being prepared. For a 3-day long, 20 bands each day, across 3 stages, outdoor, sold out affair like Sonic Temple; balancing these loves is tricky. But doable.
I'm a tank top & jeans kind of gal. I like to have my hands free, especially at crowded events. I never know when I'm going to have to swat a beach ball, keep a crowd surfer off of my head or (the most likely scenario) eat a funnel cake.
Check out the breakdown of how I manage to fit the bare essentials for enjoying an all day event with your phone charged and your anxiety assuaged; all while rocking a super simple outfit without looking like three chipmunks stacked into a trench coat.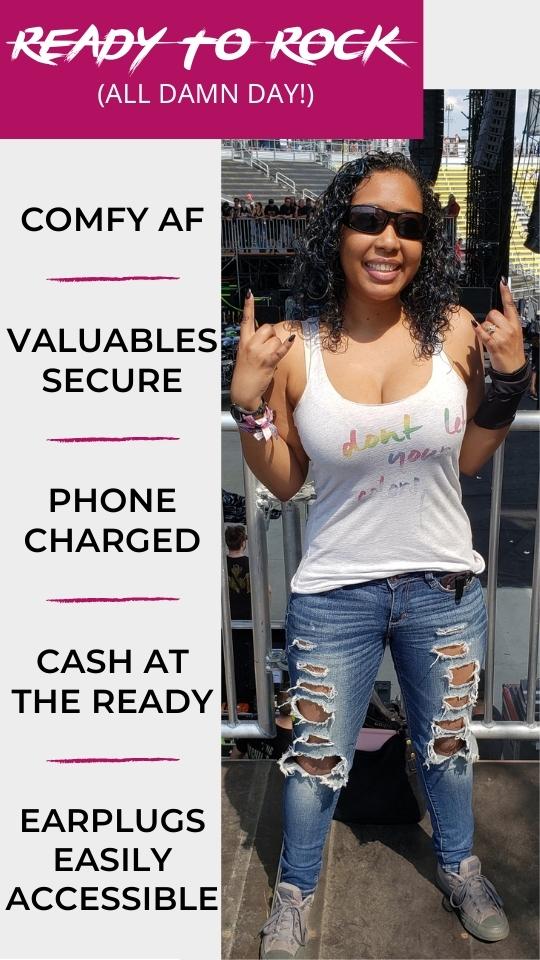 The Outfit
Bella + Canvas Triblend racer back tank top. A cute fit, plus a bit of flowy-ness around the midsection for when I stuff Island Noodles in my face at 3pm. *I actually made this shirt! The photo is a bit washed out as I've worn it to death for the past 5 years. It's super soft and reads "Don't Let Your Colors Fade' in a pastel rainbow that fades into the grey of the shirt. If you love it, click here to pick one up for yourself! $24
Lightweight Skinny Jeans – Shorts or leggings are great, but as soon as the sun sets, I am frozen! I'd rather not shiver through the headliners, so I choose a nice thin pair of jeans with air conditioning! I've found that most junior's sizes fit short adults quite nicely, and save a few bucks. This way I'm not super mad if they get wrecked. The pocket situation is still lacking, but at least these HAVE them! $34
ACS Custom earplugs to protect my hearing.  I've included them in outfit rather than gear because they are essential. Given how close we stand to the monitors, I'd sooner go without pants than my earplugs. I want to enjoy every note til I'm 110 years old. Any festival, music, film, food or other wise, these plugs are in. These are spendy, but a worthy investment in taking care of your hearing. $185 
The Gear
**These are live affiliate links, which means we may receive a commission if you make a purchase through one of these. It won't cost you a thing, and these commissions help us keep the site up and running. We only recommend products that we use and love. Kali especially kind of hates everything, so if it's recommended here you know we mean it. Thanks for your support & happy shopping!
Wrist Wallet – Essential for hands free storage. This one has a zippered pocket I wear to the inside (for what? extra safety?) which holds my ID, Debit Card, Emergency Credit Card & some cash. There's also an outer pocket that closes by foldover, that pocket is entrusted with my lip balm, a tiny travel tube of sunblock, and sometimes, spare foam earplugs. $20
Travel Belt Clip – This little guy zips closed and clips securely into my pocket to hold high value items that I don't trust in a wrist wallet. As we all know gals' clothing isn't rich in pocket security….or pockets. At all. TBH. This is where my very expensive, very important earplugs reside when they're not protecting my eardrums. They come with a case but it's not this slim. $9
Timex IronMan – You're going to need to keep track of the time, without pulling out your phone every 12 minutes. Conserve that precious phone battery for photos! Waterproof, durable AF, comes in every damn color, and has several functions like stopwatch and countdown timer. So if the plan is "Meet back here in 20 minutes" you can literally count it down. This also lets me leave my precious FItBit at home. I don't need to count my steps on festival days. $24-$39
Portable Phone Charger – A phone battery of less than 50% gives me anxiety. For an all day event like a music festival, I let it hit 30 before I charge up. Wait for a break between sets, plug it in, and leave. it. alone. This charger has 2 cables on-board so you never have to worry about forgetting a crucial piece of your backup battery plan. $30
Charger Cable Bracelet – If you also feel the need to back up your backup plans, this super cute bracelet blends right in with other wrist adornments, but snaps open into a USB-C charger cable. Just in case you kill your charger and need to borrow one, come across someone in need of charging, OR, or by some miracle you find a USB wall socket in your travels. $15
Foldable Tote – Sometimes carrying things is inevitable; but you don't have to lug a bag around ALL day. Tuck a foldable tote into your back pocket for carrying purchases later. Tour shirts, those stupid refillable cups, pretty much anything you might pick up throughout the day. Save yourself the $15 (at least) the venue will charge for a really crappy drawstring bag. $15/5 bags
---
Above all, don't forget to pack some fuk-it-alll. You can prepare as much as you want for a festival of any size, but crazy things are going to happen. Someone is going to spill beer, a sweaty human (or several hundred) will brush past you, and someone will at some point, knock something out of your hands. Just be prepared to say fuk-it-all, and let it go in the name of a good time!