[dsm_text_badges main_text="1120 Manhattan Avenue" badges_text="Brooklyn, NY" badges_background_color="#5a5a5a" badges_gap="10px" _builder_version="3.27.4″ badges_text_color="#ffffff" text_orientation="center" custom_margin="20px||||false|false" global_colors_info="{}"][/dsm_text_badges][dsm_text_divider header="Vital Stats" _builder_version="4.9.4″ header_text_color="#b21162″ custom_margin="0px||0px||false|false" custom_padding="||0px||false|false" global_colors_info="{}"][/dsm_text_divider]
Neighborhood
Public Trans Available
Parking Available
Maximum  Occupancy
Viewing Obstructions
# of Bars
# of Bathrooms
Greenpoint
Subways: G | Bus: B43
Public Lot 1 block away
250
None (besides heads!)
1
2 – Urinals + single use
[dsm_text_badges main_text="1120 Manhattan Avenue" badges_text="Brooklyn, NY" badges_background_color="#5a5a5a" badges_gap="10px" _builder_version="3.27.4″ badges_text_color="#ffffff" text_orientation="center" global_colors_info="{}"][/dsm_text_badges][dsm_text_divider header="Vital Stats" color="#000000″ _builder_version="3.29.2″ header_text_color="#000000″ custom_padding="||0px||false|false" global_colors_info="{}"][/dsm_text_divider]
Neighborhood
Greenpoint
Public Trans Available
SUBWAY: G | BUS B43
Parking Available
Public lot 1 block away
Maximum Occupancy
250
Viewing Obstructions
None (Just people!)
# of Bars
One – outside of stage area
# of Bars
THREE – One w/ Urinals + TWO Single Occupant
One of Brooklyn's best kept secrets, St. Vitus is NYC's premier metal venue. Sure, it's also a great bar staffed with folks who live and breathe this music, but if you want to see your local metal acts tearing it up, or even secret shows with some of the biggest names in the biz, Vitus is the only place for it!
Like any good secret, it's easy to miss if you're not looking for it. The entrance is a metal door in a black wall on the street, and if it wasn't for the crowd of folks outside in leather jackets & long hair, you might not notice walking past.
Founded in 2011 by musicians, St. Vitus grew into a community staple in only a few short years. Musical acts of all kinds have graced the tiny stage, from baby bands just starting out, to some bigger names looking to play secret off-tour shows.
Light The Torch played their first ever show here. Kali was injured seeing Trivium here!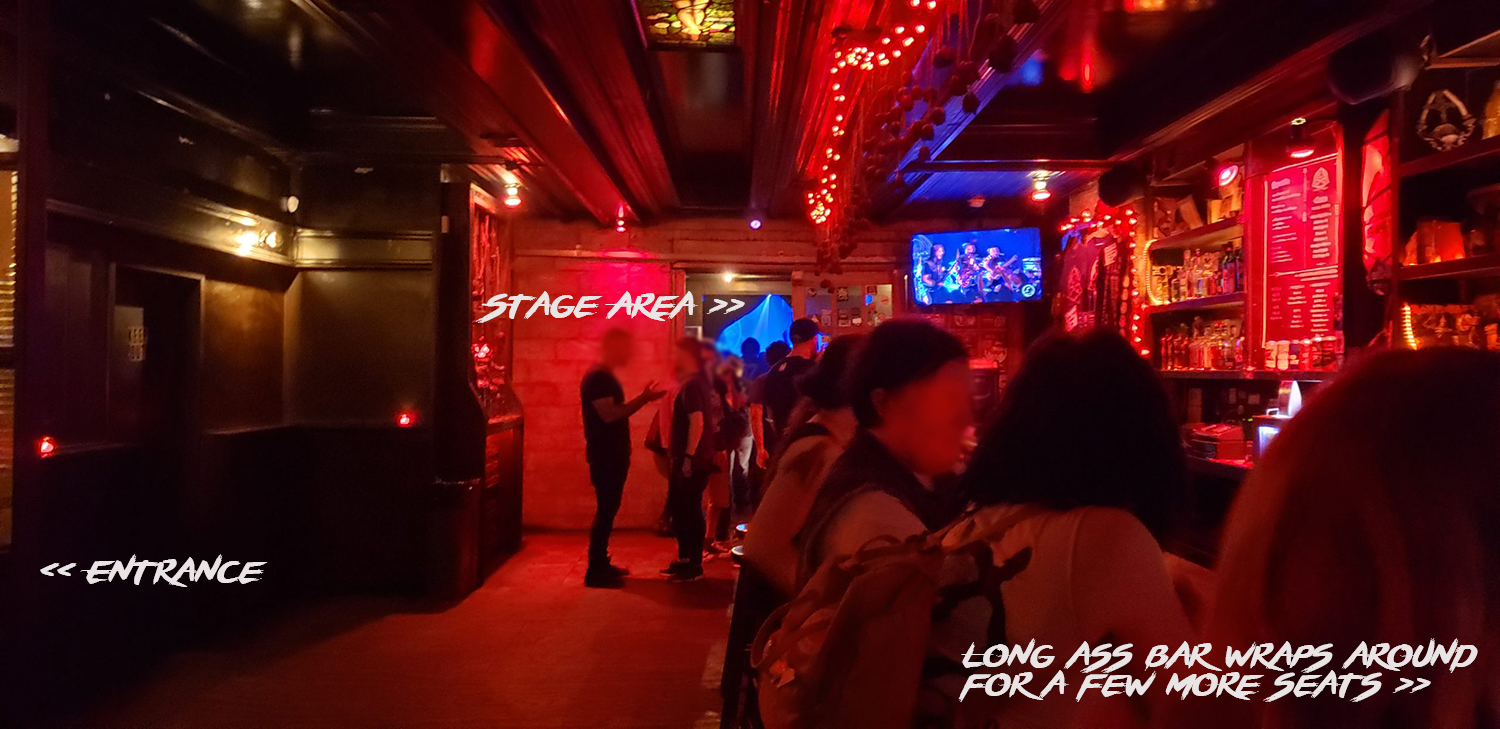 The space itself is tiny, but mighty. One long wrap around bar spans the length of the main room offering a few coveted seats and easy eye-contact with bartenders. There's a monitor at the far end in case you'd like to finish your drink before squeezing in to the performance space. (Or if you'd rather watch from afar!) It's easy to see why Saint Vitus has become so beloved by the metal community.
Pandemic 2020 update:
The COVID-19 pandemic hit the live music scene particularly hard. Fortunately, through merch sales and donations, Saint Vitus has been able to stay in business.
As of now, they're still shut down, but their social media channels regularly host chats and interviews with musicians, and before the pandemic, was the live studio for metal-themed comedy late-night show 2 Minutes to Late Night. If you want to show some support, hop on over to their shop and pick up a hoodie or make a donation here: saintvitusbar.shop
When life gets back to "normal" swing by for a show and drink or three! See ya there.