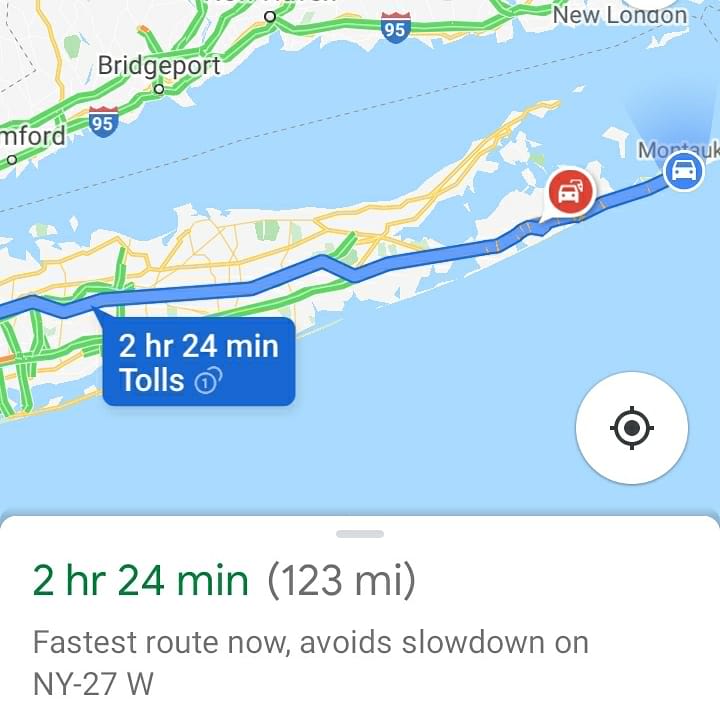 We drove 123 miles to Montauk yesterday, for no particular reason at all. Yes. One hundred, twenty three miles. We'd just gotten back from my very first camping in the woods experience. I enjoyed the adventure, but we were a little under-prepared. I was feeling accomplished, but craving a little bit of luxury. Since outside is the only safe activity these days, and I wanted to get some comfort food in a happy place, I figured, let's hit the beach!
I'm not a huge beach lover (or so I thought). Packing up for a day at the beach with my family as a kid was a curated event that involved cooking at some ungodly hour and packing coolers. Driving out to Jones Beach from Brooklyn involved battling the Belt Parkway on a Saturday morning. If you're not from the area, that might not mean anything to you. Think LA traffic, but with dollar vans and hyper aggressive drivers in 26 year old Acuras. By the time we pulled into the parking lot, I was already tired of everything and ready to go home. THEN there was the trek of what felt like a mile to the actual beach, finding a square of sand amidst the throngs of beachgoers and wedging in for a day of fun!! Etc etc. UGHHH
I soured on the beach experience for a long time. Then my parents moved to the Sunshine State, and they burned out on the beach a little as well. So whenever we visit the fam, we sneak in a little escape to South Beach. To keep it simple and not guilt anyone into joining, turning a day trip into a full blown event involving multiple SUVs caravan-ing down the Florida Turnpike; we just pick up and go. Anything we forget can be picked up at CVS when we get there. Just go! I thought I wasn't a fan of the beach, turns out I'm just not a fan of planning and preparing. With that truth accepted, I can finally admit: I love a beach day!
---
So last Saturday, on a whim, we decided at 1pm to drive the 2.5 hours to Montauk just to get a taste of salt air sans masks. We were half out the door when I remembered standing on South Beach staring at the ocean being super annoyed that I was wearing a cute skirt and not a bathing suit. So we took a whole 8 minutes to grab our suits, 2 towels, and the Go Bag, which is always ready with bug spray and sunblock; all of which fit into my trusty giant Trader Joe's tote. This is how we roll to the beach these days.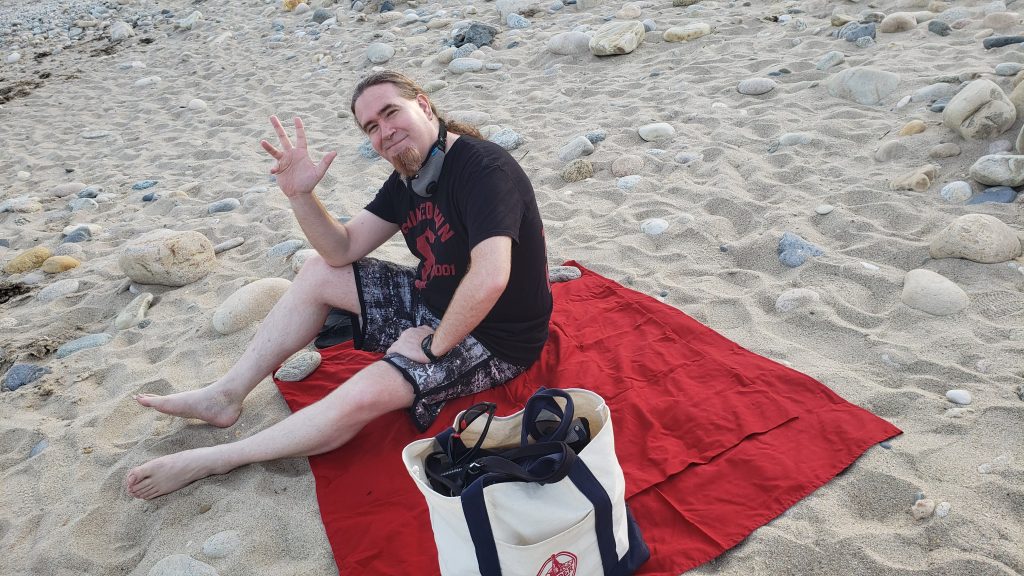 The trip itself is part of the escape. In 2 hours we can almost about get through 1.5 Parkway Drive albums. I prefer Starset for the drive home. The darkness of the local roads in the Hamptons is conducive to pretending to pilot a spaceship instead of a Toyota.
There are so many Hamptons Beaches (yes, technically it's all the same beach) but for optimal serenity, it's worth the additional 5 miles to reach the very End. Montauk Beach is deliciously quiet. A bit removed from the town center and a short trail walk from the main parking areas.
The beach itself is sheltered, reachable by a super secret very tiny parking lot off of Old Montauk Highway; or, the more scenic route, from the Lighthouse & Museum parking lots via beautiful boulder path around the lighthouse itself. The path is quite flat and easy to walk in any shoes. We've seen some ladies out there in heels! But when the tide comes in, those waves crest pretty high and the rocks may be wet, so bring your sneaks!
The shoreline here is quite rocky, so it's never crowded with blankets. There's no boardwalk, no surf shop or fried food stands. It isn't ideal for all day lounging and noise-making. But, it IS ideal for beach purists. Just sand and sky, the sea and ME.
Even on the hottest summer day, the breeze on this little slice of beach is cool and refreshing. We could spend all day here lounging with a book and a fruit platter.
After some Vitamin Sea, it's a short drive back into the actual town of Montauk, (it's technically a hamlet, how frikkin cute is that?!) where folx are in search of eats and entertainment. It's an even split between laid-back folks in flip flops and towels fresh off the beach, and posh people perfumed, espadrilled, with freshly styled beach waves in their hair. Everyone comes together for the evening in search of food & fun. It's a little bit of everything and it makes us feel right at home. It's a bit of a trek now that we've moved off of Long Island, but well worth the miles. We can't wait to go back.